The new way to control your bee hives – simply and fast!
Thermal/Hive monitoring by infrared thermal imaging with BeeWatch® Thermo.
Whenever the bee keeper is opening the hives, he is causing a massive disturbance among the bee colonies. But now an "outside control" is possible, which protects the bees and does not disturb them. Without wasting time and without exertion, you can control the bee colonies while passing by.
The magic word is thermography or infrared thermal imaging.
Or just simply BeeWatch® Thermo!
Colony strength, vitality and position at a glance
No opening of bee colonies necessary
Hive check using smartphone or tablet
High efficient and gentle on bees
No radiation – no disturbance
Compatible with Android and iOS/Apple
Individually adjustable
Brief Description
A really ingenious technique that has been very expensive and hardly affordable, is now finally available for a reasonable price. A long overdue revolution for bee colonies control is now available with Thermo BeeWatch®.
BeeWatch® Thermo enables you to see and explore your bees in an unprecedented manner. No additional accessories are needed – simply connect the thermal imaging camera Thermo with your smartphone or tablet.
Standard viewSelection of views available with the thermal imager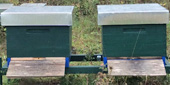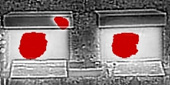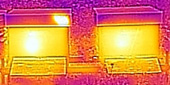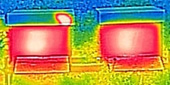 BeeWatch® Thermo is a small technical device that turns your smartphone or tablet into a full-featured and easy to use thermal imaging camera. Does not matter if Apple or Android operating system, BeeWatch® Thermo is simply plugged in and you have on your Smartphone display or the wider tablet screen the clear vision at the colony and all that without any disruption or impairment of the bees. It is enough to set up in passing at the hives, the thermal camera onto the beehives. The data can be stored and comments added for the stock recording. If the GPS function has been activated on your mobile device, the images can be provided with your location coordinates. The color scheme for different measuring ranges can be adjusted individually.
Size in cm (L x W x H)
72 x 26 x 18 mm (L/B/H)
Weight
78 g
Temperature range
-20 to +120 °C
Battery
350 mAh, Chargable via micro-USB
Digital camera
VGA (for FLIR® MSX®)
Accuracy
0,1 °C
Included in delivery
Flir One IR camera, micro-USB charging cable, instructions
Compatability
Apple products
iPhone 6 / iPhone 6 Plus / iPhone 5 / iPhone 5s / iPad Air / iPad Air 2 / iPad Mini / iPad Mini 3 / iPad
Android – system
Samsung: S5 ver2, S6, Galaxy Tablet S10.5, Galaxy Tablet S8.4
Motorola: Nexus 6, Nexus 7, Nexus 7
HTC: ONE M8
LG: V 400
all devices with Android version 4.4.2 and higher and USB-OTG plug