High-tech with GPS monitoring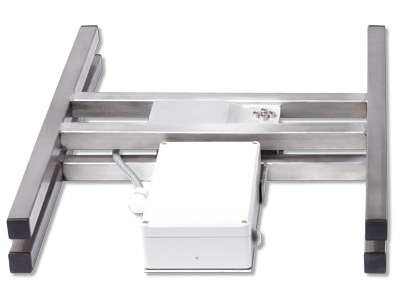 Features
Automatic start-up – no programming
Latest technology for a reasonable, affordable price
Theft protection with integrated GPS positioning system
Weighs accurately to the nearest 20g and up to 200kg
Problem free worldwide use with the quad-band 3G module
Super economical battery operation
Temperature range from -30 ° C to + 60 ° C allows feed controls in winter
Why the BeeWatch Professional?
The Beewatch Professional is designed for migratory beekeeping and meets the typical requirements for professional migration to more distant types of yield. Due to the large amount of measured data, the Professional is also suitable for beekeeping schools, clubs and of course honey yield observers in associations. The technically minded beekeeper with high requirements in the areas of comfort, technology and data volume is also well served with the BeeWatch Professional.
Additional Information
Why use the BeeWatch® Professional?
Time is money! Save yourself long trips for checking your bee colonies, and access all the relevant data from your home PC.
Get more out of your vehicle, wallet and the environment through saved fuel costs and significantly less car-wear. Enjoy warm summer days on your balcony or terrace instead of performing stressful checks.
The BeeWatch® Professional gives you a complete overview, and you can accurately assess the situation at the bees' location:
– Rainfall duration and amount (essential in the forest yield!)
– Daily temperature / humidity
– Wind speed
– Hive or breeding chamber temperature
– Bee flight
– Weight increase or decrease
– IMMEDIATE warning of unauthorised lid removal or opening of the hive.
– In the case of theft, BeeWatch® Professional reports the new position via GPS tracking.
Advantages of the BeeWatch® Professional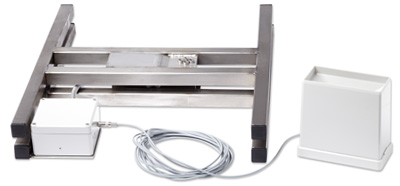 Problem-free worldwide use with the quad-band GSM module.
Measurement results are displayed graphically and immediately enable an assessment.
The main scales can be connected to control/secondary scales.
No special skills, expensive computers or meter-reading tools are required.
Latest technology for a reasonable and affordable price.
Theft protection with integrated GPS positioning system.
The BeeWatch® Professional has an accuracy/readability of up to 20g.
The temperature range of -30 ° C to + 60 ° C also allows for feed checks in the winter.
Up to 7 fixed and/or mobile phone numbers can be specified for the theft alarm.
Frame

Stainless steel
Yes (adjustable)
Size in cm (L x W x H)
52 x 39 cm to 52 x 6 cm (adjustable)
Weighing range
200kg
Accuracy
20g

Operating conditions / Protection

Temperature range
-30°C to 60°C
Protection class of electronic enclosure
IP65

Power supply

Battery type (build in)
3 x Mono D
Battery durability
1 year

GSM/GPS

GSM/GPS (2G)
Yes (worldwide)
UMTS, HSPA+ (3G)
Yes (worldwide)
GPS-Position
Yes

Antennas

Internal GSM-Antenna
Yes
External GSM-Antenna
Option
GPS-Antenna
Yes

Sensors

Temperature -40 – +125°C
(-40 – +257°F)
Yes
Humidity 0 – 100%
Yes
Rainfall 0 – 999 l/m²
(0 – 39.3 in)
Option Rain Gage and Option Weather Station
Wind speed 0 – 200 km/h
(0 – 124 mph)
Option Weather Station
Weather station
Option
Brood temperature 0 – 60°C
(0 – 140 °F)
Option

Data acquisition

Measurement cycle
15 / 30 / 60 minutes (configurable)

Control scale

Control scale (wireless connectable)
Yes – up to 5

Alarms / Control via SMS

Weight loss
Yes
Moving / Lifting
Yes
Connectivity of external alarms
Yes
Battery charging control
Yes
Phone credit (Prepaid cards only)
Yes
Telephone numbers (in case of alarm)
up to 7
Control per SMS
Yes (Start / Stopp / Alarm)

Data transfer

GPRS / Internet
Yes
SMS
Yes
Bluetooth (max. 10 meters / 11 yards)
Option

Data evolution

Browser (Internet – private account)
Yes
Desktop application (local PC)
Option
Android-App (Smartphone / Tablet)
Option
iPhone App
No

Additional reader

Tablet (ca. 17,8 cm or 7" screen size)
Option