The new and simple SMS wireless scales for price-conscious beekeepers!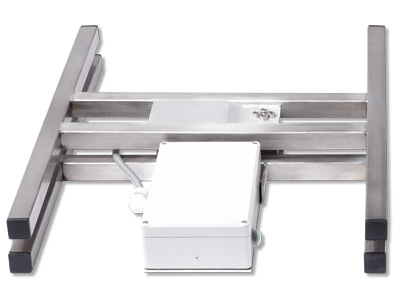 Features
Automatic start-up – no programming
No need for a PC. A mobile phone is enough.
Hive weight
Weighs accurately to the nearest 20g and up to 200kg
Unauthorised access is not possible
High-tech, top-quality scales made in Germany
BeeWatch Basic is delivered fully configured and ready
Why choose BeeWatch Basic?
BeeWatch Basic has convinced customers worldwide due to its simple operation, reliable data transmission and convincing price-performance ratio.
The BeeWatch Basic communicates hive weight, humidity and temperature.
The data can be read online, via SMS or via Internet + SMS.
Whether you are an amateur or a professional beekeeper, the Basic sends the exact data and information needed by every beekeeper to make their important beekeeping decisions. Decisions on removing the frames of honey, migration or feeding can all be taken quickly and securely with BeeWatch Basic. The right beekeeping decisions at the right time contribute significantly to an optimal operating result and ensure full honey pots instead of long faces!
The SMS alarm is a useful function as it effectively deters potential thieves in advance, ensuring that beekeepers can sleep better at night.
Additional Information
The development of our BeeWatch® Basic arose simply due to the fact that some beekeepers do not have a computer, while almost everyone uses a mobile phone.
Our concept was therefore to develop extremely simple SMS scales, which are fast, reliable and easy to operate and can be used by technical beginners without any additional help.
To enable easy operation for a beekeeper without any technical knowledge, only those technical components which ensure a problem-free start up were installed. It is for this reason that a wireless weather station, a rain gauge or a breeding chamber sensor cannot be connected to the Basic.
However, the built-in humidity sensor is so accurate that the humidity can be read without difficulties, even during a damp and wet flying day for your bees.
Start-up is a breeze, and all beekeepers – including those without any technical knowledge – can get going quickly and easily.
All you need to do is put 3 batteries (single cell D) in the electronics enclosure, and insert a credited SIM card. That's it!
From this point on, your Basic SMS wireless scales will communicate with you via SMS, and notify you via text message on each stage of operation.
After inserting the batteries you will receive a text message with the title "I'm waiting for the weight". You should then put your bee colony on the scales. Within a short time your Basic wireless scales will send you a second "confirmation SMS" with the current weight, the outside temperature, the measured humidity and the credit amount on your phone card, as well as the charge status of your batteries and confirmation that the data transmission is okay.
From this point on, you do not need to do anything more, but at the time of day you specify, you will receive a message with the current hive weight accurate to the nearest 20g, as well as the temperature and humidity optionally via SMS and / or the Internet, via a web browser on your PC.
In the event that your hive is removed from the scales, you will receive an SMS alarm to the mobile number you specified. You can turn your scales on and off, or turn off or acknowledge the alarm etc. all via SMS.
Properties
Stainless steel frame with dimensions of 52 x 42 x 6 cm (length x width x height)
Measuring range up to 200 kg with 20 g accuracy
Integrated mobile phone module for worldwide use
Built-in temperature and humidity sensor
Analysis using browser software
You can turn your scales on and off, turn off or acknowledge alarms and read the current measurement data via SMS or on-site through the use of an app on your smartphone.
From old to new!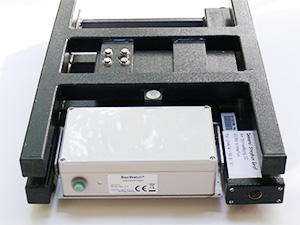 BeeWatch- From old to new: Do you have old Raff or Zeidler scales or another product in your basement or attic that no longer works?
It would be a shame to throw them away!
Why not re-use a well-preserved scales-frame and further upgrade it with modern electronics into wireless scales which can measure
Hive weight + Temperature + Humidity and connect comfortably or reliably to your mobile phone and / or PC.
Upgrade your old scales to modern wireless scales within an hour with our cost-effective conversion set.
DIY set: 450, – plus VAT.
Conversion with us: 520, – plus VAT.
The conversion requires no special skills and we provide you with detailed instructions.
Frame

Stainless steel
Yes
Size in cm (L x W x H)
54 x 42 x 6
Weighing range
200kg
Accuracy
20g

Operating conditions / Protection

Temperature range
-30°C to 60°C
Protection class of electronic enclosure
IP65

Power supply

Battery type (build in)
3 x Mono D
Battery durability
1 year

GSM/GPS

GSM/GPS (2G)
Yes (worldwide)
LTE (4G)
Option
GPS-Position
No

Antennas

Internal GSM-Antenna
Yes
External GSM-Antenna
Option
GPS-Antenna
Yes

Sensors

Temperature -40 – +125°C
(-40 – +257°F)
Yes
Humidity 0 – 100%
Yes
Rainfall 0 – 999 l/m²
(0 – 39.3 in)
No
Wind speed 0 – 200 km/h
(0 – 124 mph)
No
Weather station
No
Brood temperature 0 – 60°C
(0 – 140 °F)
No

Data acquisition

Measurement cycle
1x per hour

Control scale

Control scale (wireless connectable)
No

Alarms / Control via SMS

Weight loss
Yes
Moving / Lifting
No
Connectivity of external alarms
No
Battery charging control
Yes
Phone credit (Prepaid cards only)
Yes
Telephone numbers (in case of alarm)
1
Control per SMS
Yes (Start / Stopp / Alarm)

Data transfer

GPRS / Internet
Yes
SMS
Yes
Bluetooth (max. 10 meters / 11 yards)
Option

Data evolution

Browser (Internet – private account)
Yes
Desktop application (local PC)
No
Android-App (Smartphone / Tablet)
Option
iPhone App
No

Additional reader

Tablet (ca. 17,8 cm or 7" screen size)
Option